FREE SHIPPING
& Returns on orders over 1000
Check Delivery Information
COD available on all orders above Rs.1000
All orders ship within 1-2 working days
Why we think you'll love it
The Piccolo cups and saucers are the most elegant all glass cups & saucers available. Use them for tea, coffee, or cappuccino - you can't go wrong with them!

Borosil tip: Use the Borosil Milk and Sugar Pot Set to complete the fine tea drinking experience!
All VISION products are 100% flame proof and hot plate proof.
Every Borosil VISION product that you buy:
Is made of borosilicate glass, and is guaranteed to withstand temperatures of upto 350°C


Can be safely used in the microwave, oven, fridge, freezer, and dishwasher


Unlike plastic and melamine, will not leech chemicals into your drink even over repeated usage


Unlike regular soda lime glass, will not turn milky or cloudy with repeated usage.


Non porous glass will not absorb stains or odours


Contents: 6 CUPS AND 6 SAUCERS
Some things we could help you cook in this
Want to know more about what's inside?
Your package will weigh (kgs):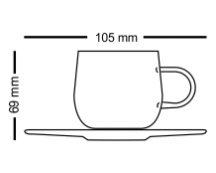 Piccolo Cup & Saucer Set
Capacity: 150 ml
Serves:
Min Microwave size:
Others like you also bought
Copyright © 2018 myborosil.com. All rights reserved
This site runs on