FREE SHIPPING
& Returns on orders over 1000
Mixing Bowl with Plastic Lid
Check Delivery Information
COD available on all orders above Rs.1000
All orders ship within 1-2 working days
Why we think you'll love it
No matter how tasty your food is, there's often something leftover that you'd like to eat later. Or maybe, you've prepared a dish in advance, and will put it in the microwave or on the dining table when you're ready to serve. Just for times like this, we have our mixing bowls with lids. They ensure nothing else falls into the bowl, and help retain flavour so that your salad or baked dish doesn't smell of chola masala – ensuring that your dish looks, smells and tastes just like it did when you put it in!
Every Borosil Microwavables product that you buy:
Is made of borosilicate glass, and is guaranteed to withstand temperatures of upto 300°C


Can be safely used in the microwave, oven, fridge, freezer, and dishwasher


Unlike plastic, will not leech chemicals into your food even over repeated usage


Non porous glass will not absorb stains or odours
Some things we could help you cook in this
Want to know more about what's inside?
Your package will weigh (kgs):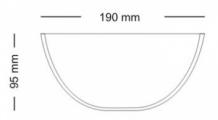 Mixing Bowl with Plastic Lid
Capacity: 1.3 L
Serves:
Min Microwave size: 15 L
Others like you also bought
Copyright © 2018 myborosil.com. All rights reserved
This site runs on