FREE SHIPPING
& Returns on orders over 1000
Check Delivery Information
COD available on all orders above Rs.1000
All orders ship within 1-2 working days
Why we think you'll love it
Borosil's Gourmet Cook & Serve will take your cooking to the next level of perfection. It is scientifically proven that smell and visual appeal can enhance the flavour of food. So make your cooking look like it's straight out of a chef's kitchen by using our Gourmet range - simmer dals or soups in it, or use it to cook a biryani so that you can see each layer through the thin, clear glass.

And of course, it's perfect for serving – just put it directly on the flame to reheat it when you're ready to eat. The modern design, made of the highest quality glass adds to the elegance of your table setting, and the lid keeps the food hot till you're ready to eat!

Why save the best for guests? Make every day a special day with Borosil!
All Gourmet products are 100% flame proof and hot plate proof.
Every Borosil Microwavables product that you buy :
Is made of borosilicate glass, and is guaranteed to withstand temperatures of upto 350°C


Can be safely used in the microwave, oven, fridge, freezer, and dishwasher


Unlike plastic, will not leech chemicals into your food even over repeated usage


Unlike regular soda lime glass, will not turn milky or cloudy with repeated usage


Non porous glass will not absorb stains or odours
Some things we could help you cook in this
Want to know more about what's inside?
Your package will weigh (kgs):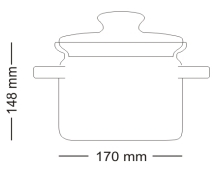 Gourmet Cook & Serve
Capacity: 2.0 L
Serves:
Min Microwave size: 15 L
Others like you also bought
Copyright © 2018 myborosil.com. All rights reserved
This site runs on