FREE SHIPPING
& Returns on orders over 1000
Check Delivery Information
COD available on all orders above Rs.1000
All orders ship within 1-2 working days
Why we think you'll love it
The Gourmet Bowl is a signature Borosil product. It is extremely versatile – use it to store sweets, chikkis or dry fruits instead of keeping them in the typical glass jars, or use it to serve individual portions of soups, dal and individual biryanis. This bowl is perfect for making and serving layered dips, and can even be used to make a molten chocolate cake or a brownie dessert, or freeze kulfis and icecreams. It can also be used to keep chutneys and pickles on your dining table. The knobbed lid not only looks stylish, but helps cover your food and keep it warm till you're ready to eat.
Come on and let your imagination go wild!
 100% flame proof and hot plate proof. Can be placed directly from freezer/frig to flame without fear of cracking
Can be used in microwave, oven and dishwasher



CONTENTS: 2 GOURMET BOWLS



Some things we could help you cook in this
Want to know more about what's inside?
Your package will weigh (kgs):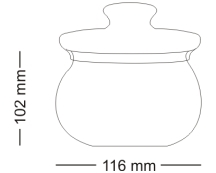 Baby Gourmet Bowl
Capacity: 500 ml
Serves:
Min Microwave size: 15 L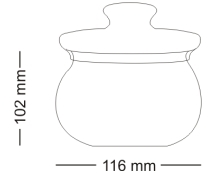 Baby Gourmet Bowl
Capacity: 500 ml
Serves:
Min Microwave size: 15 L
Others like you also bought
Copyright © 2018 myborosil.com. All rights reserved
This site runs on